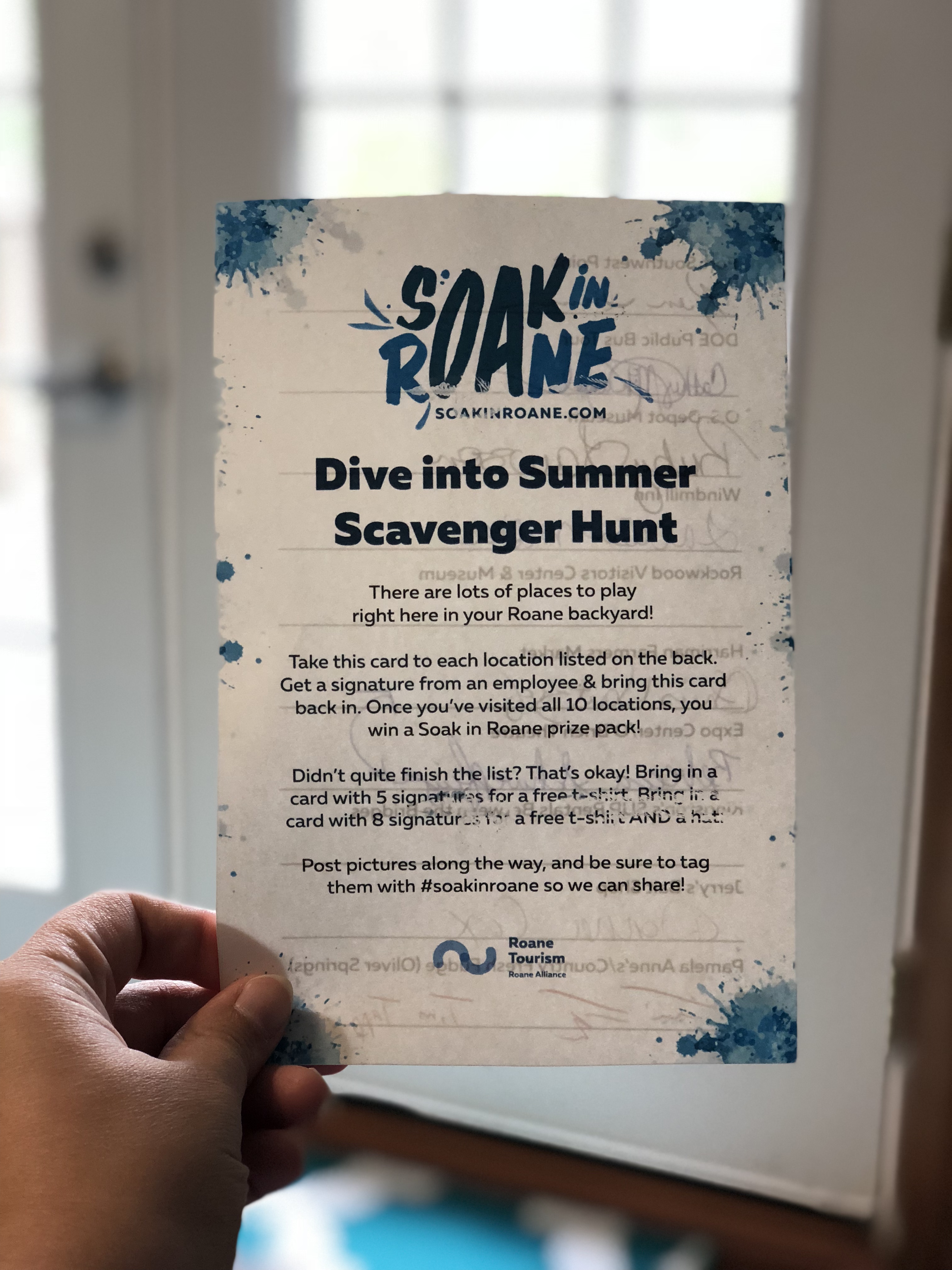 What's more fun than a friendly competition? To celebrate Summer being in full-swing, we've created a signature scavenger hunt designed to get locals and visitors out to all 5 of our cities in Roane County! We've randomly selected 10 must-sees in Roane County that we'd love for you to visit. All you have to do is head to each location, get a valid signature from an employee or volunteer and bring the card back in to claim your prize! Prizes begin with 5 signatures, but they get better with each additional signature! For just 5 signatures, you win a t-shirt! For 8, you get a t-shirt AND a hat. With all 10, you get a Soak In Roane prize pack ($75 value). You can print this card or come by the welcome center to pick one up anytime Monday-Friday 8:30-5. Let the signature scavenger hunt begin!
Locations Include:
Fort Southwest Point – Tennessee's Only Pioneer-Era Fort reconstructed on its original site in Kingston.
DOE Public Bus Tour – Leaves from the American Museum of Science and Energy in Oak Ridge with stops at Oak Ridge National Lab and "behind the fence" in the Wheat Community.
Oliver Springs Depot Museum – Visit the Museum to learn about the interesting and somewhat surprising history of Oliver Springs as well as the important part that trains played in developing the town that falls within 3 counties.
Windmill Inn – this former church building is now a bed and breakfast that caters to ATV and Jeep riders at Windrock Park.
Rockwood Visitors Center & Museum – this historic location is filled with treasures from the past that tell the story of how Rockwood came to be. On many Friday and Saturdays, this space is filled with live music as part of the Roane Song series.
Harriman Farmers Market – Every Wednesday and Saturday, David Webb Riverfront Park comes alive with produce vendors, bakers, crafters and more! Stop by to shop because the best things in life are Roane grown!
Roane State Expo Center/O'Brien Theatre – Located on the campus of Roane State Community College, these two venues offer very different experiences for visitors right here in Roane. The Expo Center is home to horse shows, rodeos and all things equestrian while the O'Brien Theatre packs out performances of plays, concerts and more.
Kingston's SUP Rentals – Want to try your hand at stand up paddleboarding without the commitment of buying a board? The City of Kingston will begin renting paddleboards and kayaks between the bridges beginning this weekend and running throughout the remainder of the summer.
Jerry's Bait Shop – Looking for the perfect lure to catch the fish you'll be talking about for the rest of your life? Jerry's has it. Stop by to see Donna, grab your bait and head over to WBL to catch a whopper.
Pamela Anne's/Country Fresh Fudge – The hidden gem of downtown Oliver Springs is Pamela Anne's fudge shop featuring Country Fresh Fudge. Stop in to pick up a sweet treat before you peruse the historical side of this beloved small town.