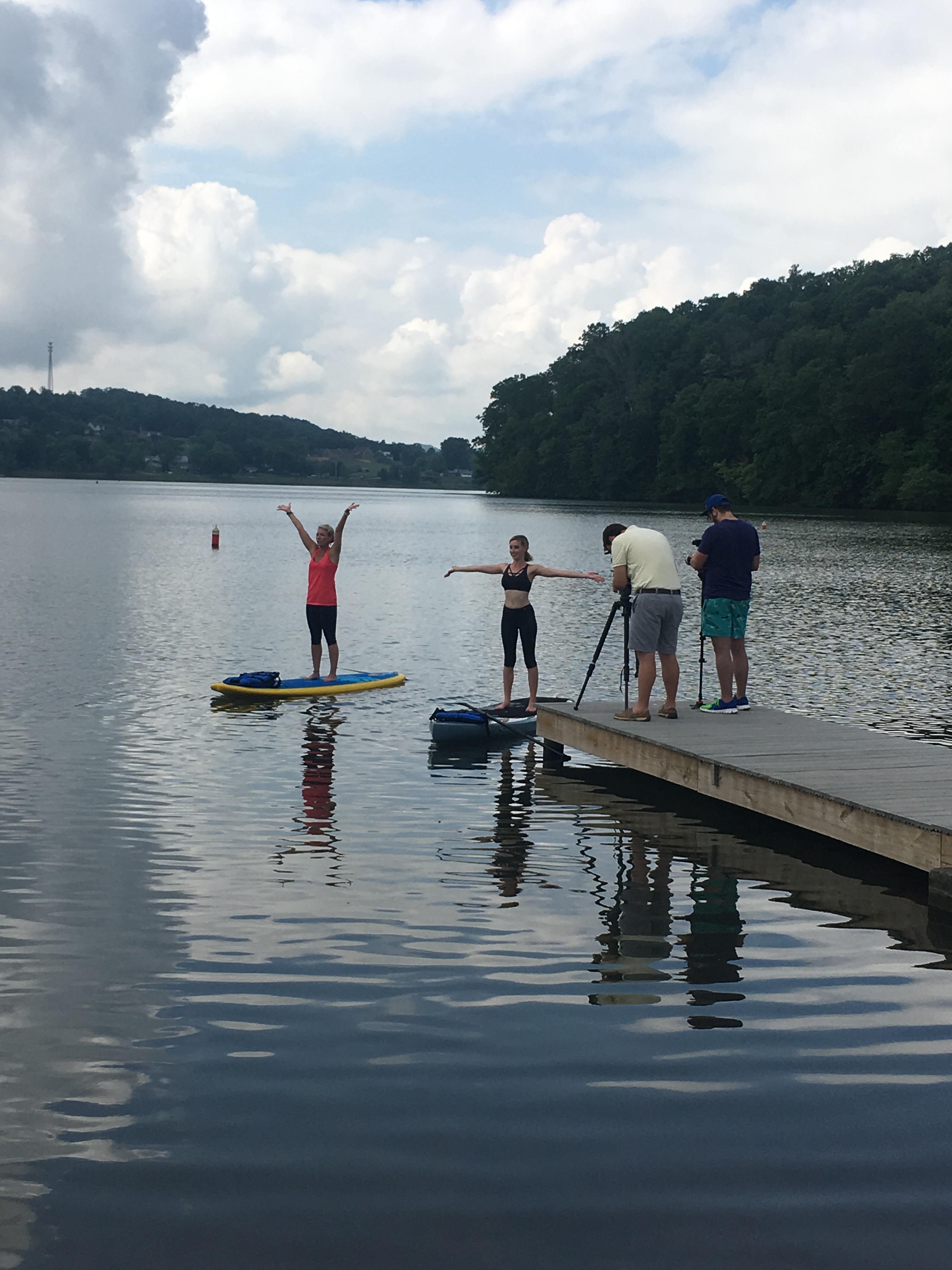 In the middle of May, our friends from Knoxville Weekend (affectionately known as K-Dub) came to Roane County to see what's so great about Watts Bar Lake. Our friend and host, Jac B., was up for any adventure we threw her way, and little did she know just all we had planned for her!
We began in the morning at Kingston City Park for a Stand Up Paddleboard Yoga lesson from Krystal Hennagar. Krystal is the instructor and proprietor of Roane County SUP Yoga. She is well versed in poses, perfect balance and creating an atmosphere of calm all while on the water. Watching Krystal, you'd think anyone can stand on a board and practice yoga, and if you ask her, that's exactly what she'll tell you! In just a matter of minutes, Krystal had Jac out on the board standing and stretching. Pair the peace of a yoga class with the serenity of still water, and you've got yourself a fitness utopia.
From there, we hopped on a boat with our captain for the day, Michael Heidle of Bunch Marine. Bunch Marine provided a beautiful pontoon boat for our day on the water. In fact, Bunch sells boats and boating accessories for every type of lake lover!
On the way, we had the opportunity to show the Knoxville Weekend team Gizmo Island and tell them about Gizmo Jam. They were all amazed to know that the entire music festival can be held the Saturday before Memorial Day and is only accessible by boat.
We also got to show them Fort Southwest Point and Camp John Knox by boat and share the rich history of Roane from right there on the water.
Around 11:30am, we docked at Blue Springs Marina for lunch at The Crow's Nest. There, Jac had the opportunity to interview restaurant owner, Janet Steidle, about their food including their delicious burgers, crab cakes, and world-famous meatloaf.  We found out that Jac loves pretzels and beer cheese, so we ordered the appetizer to split. There's nothing quite as relaxing as a lakeside lunch at Blue Springs!
We loved having the opportunity to tell her about the sailboats, the fish and the friendly atmosphere.From there, we headed over to Caney Creek RV Resort & Marina to hang out with manager Doug Phillips.
Doug gave Jac the rundown of all things RV as they discussed the resort and it's amenties as well as the access to the marina and Roane County Park.
After a quick cruise by Roane County Park, we headed back to Kingston to finish out the day and wrap up the shoot.
It was a blast to take our new friends out to some of our favorite spots on WBL! Wanna see the video? Click here and you can!