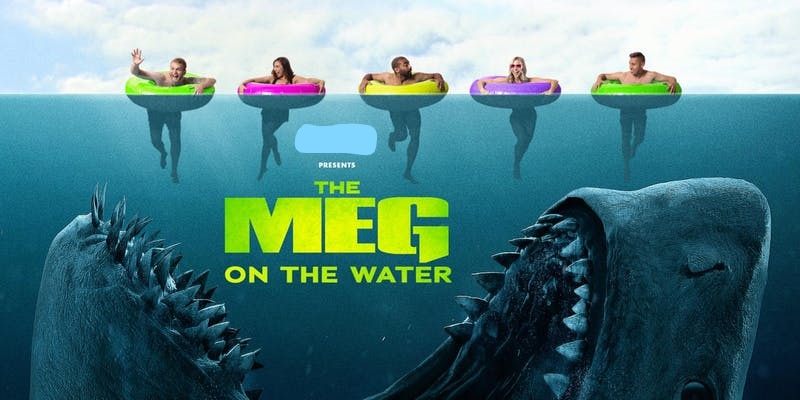 Tomorrow, there are 2 very different events taking place in and around Kingston. Whether you're more into fear or farms, we've got you covered!
For those that like to be scared, don't miss your chance to experience The Meg on the Water at Kingston City Park (333 W Race St, Kingston) on Saturday, June 22.
Bring your own inner tube, life jacket (life jackets are required) and $15, and you can spend the evening floating in Watts Bar Lake while you watch The Meg on the big screen! Don't have an inner tube? Bring an extra $5 to rent one! Everyone who stays in the water until the end of the movie will get an "I survived" style t-shirt!
The movie starts at sundown (approximately 9:00 PM). Brave movie watchers should arrive and check in at 7:00 P.M. at Kingston City Park under the pavilion. There will be directional signs and shuttles to drive you and your tube to the drop-off location to enter the water. There will be multiple parking areas surrounding the park including: Roane County High School, Kingston Community Center, Byrd Field Park, The Gravel Pit, and limited spots available inside Kingston City Park. You will be allowed entry 1hr prior to start of movie. Food vendors will be at the event, so come hungry!
Before you head down to get in the water, stop by Our Town Coffee Cafe for a shark bite frozen lemonade, too! We'll call it liquid courage even though there's no alcohol. Ha!
If you're not a scary movie fan, there are other options! Head to Narramore Farms Pumpkin Patch & Corn Maze (199 Laurel Bluff Road) for their first-ever Sweet Corn Festival! On Saturday, June 22 from 5p-9p, the farm will be open for an evening of family fun.
For just $5, you can come play on the farm, enjoy live music by husband & wife duo Westwend, purchase their sweet corn right from the source,  enjoy roasted corn, shop local vendors & top off the evening with s'mores around the bonfire.
Rumor has it, Narramore Farms' corn is the best around. So why not bring the family over to find out? There's plenty for kids of all ages to do, too!  This includes swings, small slides, culvert slides, pedal car track, duck races, ring toss, tetherball, tug o war, culvert swing, and many other activities.
For a calendar of upcoming events around Roane, click here.